Crows are always looking for food. If you are going out for a walk or visiting beautiful White Rock Beach, B Canada, consider packing a pocket of peanuts. If you run a business consider a CROW watering dish, like the Dingo Bar which catered to Dingoes, dogs and CROWS.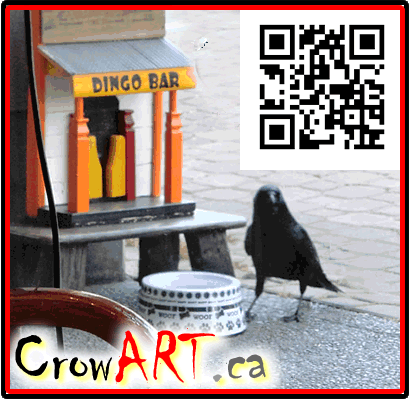 If you like to bake some mini muffins, please consider some of our mini muffin recipes. Shown below is Edgar Allen Crow who does not like zucchini, but put into a mini muffin he loves it.
---
---
Old, torn and sometimes photos in two or more pieces can be restored to their original state or better.

Ric Wallace does a high resolution scan from your original image and electronically uses a computer to do the retouching and corrections. High quality photographic prints can be obtained from the computer file. The computer file can be supplied on CD/ DVD, USB, or downloaded from the internet to ensure exact copies can be made for years to come, with no loss in quality like prints made from negatives which will degrade over time.
---